The ConsortiaKit is a unique and innovative product designed specifically for physicians and specialists doing clinical trials. For the first time, clinical investigators, who have recognized the benefits of Consortia now have an effective tool to build and manage their own network. The ConsortiaKit is a suite of customizeable templates that enable physicians to create their own investigator network. The ConsortiaKit includes all the components and processes necessary to create a well managed business that is sustainable, credible and profitable.

The ConsortiaKit has value in two ways — it can either assist a group of specialists to bring a Consortium into existence or enable an established network to fine tune its business.

The ConsortiaKit Templates include:

Incorporation & Bylaws


Principles of Membership


Conflict of Interest Disclosure


Membership Recruitment


Expedited Review and Protocol Assessment Reports


Client Development


Headquarter Database


Corporate Sponsorship Agreements


Investigator Contracts


Consortia Sensitive Legal, Auditing, Bookkeeping and Liability Insurance Services


Event Planning

PDI Management Consulting provides leadership and expertise, gained through several years of successful Consortia development, to guide development, influence direction and build successful Research Consortia. PDI oversees the implementation and professional affairs of consortia by applying the ConsortiaKit in parallel with business logistics, marketing, PR, financial management processes and conference planning. PDI uses the ConsortiaKit to customize the modus operandi for investigator networks at any stage of development. Existing networks may wish to apply only specific templates and implement select PDI services designed to improve effectiveness.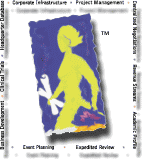 ---
© this web site, and all contents thereof, Copyright 1999 by Patty Djan Inc.
TM ConsortiaKit templates, ConsortiaKit and Greengirl logos are Trademarks, and the property of Patty Djan Inc., Reg. CIPO
e-mail PDI | website by Soft Dog WebWorks | contact webmaster | revised 03 June 2004