Patty Djan, PDI's founder and Management Consultant, draws from her prior success in offering a simple, yet reputable entrepreneurial style of building research consortia. Patty brings with her over 8 years experience in business development and an in-depth knowledge of clinical research operations from her relationships with over 40 pharmaceutical companies and contract research organizations.
Patty has had key involvement in launching several separate clinical trial consortia, namely the Canadian Epilepsy Consortium (CEC), the Canadian Brain Tumour Consortium (CBTC) and the Canadian Urology Research Consortium (CURC) are all innovative, successful and internationally recognized non-profit research consortiums.
As a Management Consultant, Patty's leadership role has been to co-develop the corporate vision and successfully guide the strategic development of each company. Today they are pro-active, professional and sustainable business models, which have influenced the creation of similar networks both locally and internationally. On the business front, her talent shines in the cohesive development of consortia, crafting and executing business deals with pharmaceutical companies, and marketing the consortia.
As a Management Consultant, Patty oversees the integration of the Research Consortia professional affairs, including financial management, securing funds, contract negotiation, marketing and public relations.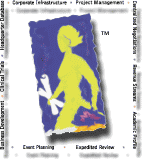 ---
© this web site, and all contents thereof, Copyright 1999-2001 by Patty Djan Inc.
TM ConsortiaKit templates, ConsortiaKit and Greengirl logos are Trademarks, and the property of Patty Djan Inc., Reg. CIPO
e-mail PDI | website by Soft Dog WebWorks | contact webmaster | revised 03 June 2004